Car fleet
A transportation service is nothing without vehicles, as a young company we can rely on a modern car fleet with all the options required for the transport of all your goods. From large to small, from valuable goods to fresh goods, and also special high speed deliveries are possible. Kimro Transport B.V. has the vehicles and equipment to take care of all your goods and get them to their destination in style.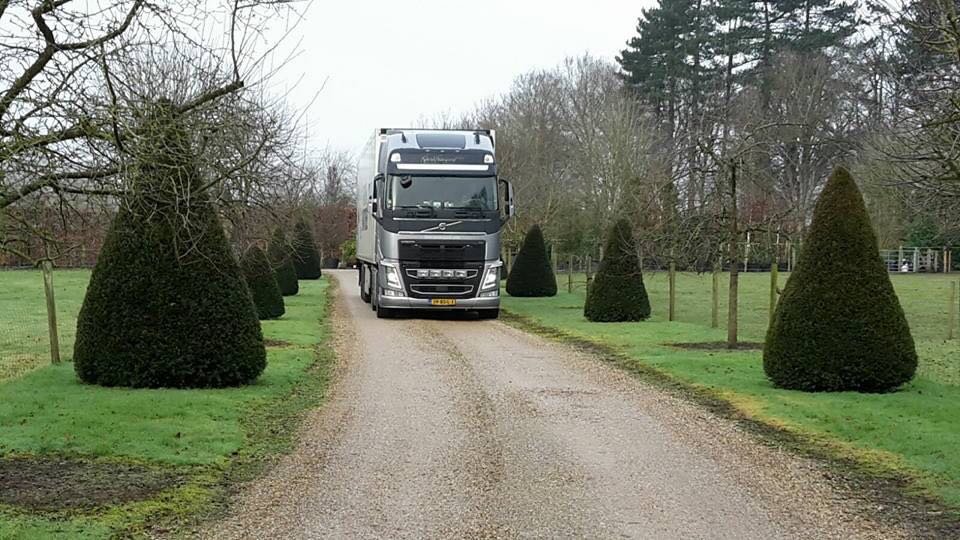 High quality, low maintenance
In The Netherlands we have pretty strict rules regarding the quality of cars that drive on the road. This applies to both passenger cars and professional transportation vehicles. In the last couple of decades the Dutch roads have become safer and safer, not only because of strict regulations but also awareness with the drivers and transportation companies. You can tell this by the quality of the Kimro Transport B.V. Car fleet. With ten new trucks build by either Volvo or Daf we can rely on high quality vehicles that can actually drive on the road, rather than parked in the shop for repairs. This is not only an advantage for our clients, our drivers also appreciate the quality of our car fleet.
Transportation Deluxe
Don't get jealous with all the high tech options in our vehicles, all our trucks are equipped with an on-board computer for up-to-date route and traffic information, we use accurate satellite navigation that not only benefits the driver but also allows the client to monitor the position of the goods. With the Alarm Class 3 standard we can transport all your valuable goods according to the best safety standards available. We only skipped the fancy rims on the tires, we love our high quality vehicles but we don't want to brag about it!
Car fleet with benefits
Do you need to transport perishables? Our trucks can handle that! Two temperatures in one shipment? That's possible! Fast, 24 hour delivery throughout Europe? Of course! Kimro Transport B.V. can provide "Best in Class" service at the most affordable rates in the industry. Contact us now for more information about our car fleet and all possibilities.
[ucaddon_uc_carousel_image cli_enable_textpanel="false" uc_items_data="JTVCJTdCJTIydGl0bGUlMjIlM0ElMjJLaW1yb1RyYW5zcG9ydC0wNCUyMiUyQyUyMmltYWdlJTIyJTNBJTIyaHR0cCUzQSUyRiUyRmtpbXJvdHJhbnNwb3J0LmNvbSUyRndwLWNvbnRlbnQlMkZ1cGxvYWRzJTJGMjAxOCUyRjAxJTJGS2ltcm9UcmFuc3BvcnQtMDQuanBnJTIyJTJDJTIyZGVzY3JpcHRpb24lMjIlM0ElMjIlMjIlMkMlMjJ0aHVtYiUyMiUzQSUyMiUyMiU3RCUyQyU3QiUyMnRpdGxlJTIyJTNBJTIyV2hhdHNBcHAtSW1hZ2UtMjAxOC0wMS0wNy1hdC0xMy4wNS4wMTIlMjIlMkMlMjJpbWFnZSUyMiUzQSUyMmh0dHAlM0ElMkYlMkZraW1yb3RyYW5zcG9ydC5jb20lMkZ3cC1jb250ZW50JTJGdXBsb2FkcyUyRjIwMTglMkYwMSUyRldoYXRzQXBwLUltYWdlLTIwMTgtMDEtMDctYXQtMTMuMDUuMDEyLmpwZWclMjIlMkMlMjJkZXNjcmlwdGlvbiUyMiUzQSUyMiUyMiUyQyUyMnRodW1iJTIyJTNBJTIyJTIyJTdEJTJDJTdCJTIydGl0bGUlMjIlM0ElMjJXaGF0c0FwcC1JbWFnZS0yMDE4LTAxLTA3LWF0LTEzLjA3LjQwJTIyJTJDJTIyaW1hZ2UlMjIlM0ElMjJodHRwJTNBJTJGJTJGa2ltcm90cmFuc3BvcnQuY29tJTJGd3AtY29udGVudCUyRnVwbG9hZHMlMkYyMDE4JTJGMDElMkZXaGF0c0FwcC1JbWFnZS0yMDE4LTAxLTA3LWF0LTEzLjA3LjQwLmpwZWclMjIlMkMlMjJkZXNjcmlwdGlvbiUyMiUzQSUyMiUyMiUyQyUyMnRodW1iJTIyJTNBJTIyJTIyJTdEJTJDJTdCJTIydGl0bGUlMjIlM0ElMjIxMSUyMiUyQyUyMmltYWdlJTIyJTNBJTIyaHR0cCUzQSUyRiUyRmtpbXJvdHJhbnNwb3J0LmNvbSUyRndwLWNvbnRlbnQlMkZ1cGxvYWRzJTJGMjAxOCUyRjAyJTJGMTEuanBnJTIyJTJDJTIyZGVzY3JpcHRpb24lMjIlM0ElMjIlMjIlMkMlMjJ0aHVtYiUyMiUzQSUyMiUyMiU3RCUyQyU3QiUyMnRpdGxlJTIyJTNBJTIyV2hhdHNBcHAtSW1hZ2UtMjAxOC0wMS0wNy1hdC0xMy4xMi4xOCUyMiUyQyUyMmltYWdlJTIyJTNBJTIyaHR0cCUzQSUyRiUyRmtpbXJvdHJhbnNwb3J0LmNvbSUyRndwLWNvbnRlbnQlMkZ1cGxvYWRzJTJGMjAxOCUyRjAxJTJGV2hhdHNBcHAtSW1hZ2UtMjAxOC0wMS0wNy1hdC0xMy4xMi4xOC5qcGVnJTIyJTJDJTIyZGVzY3JpcHRpb24lMjIlM0ElMjIlMjIlMkMlMjJ0aHVtYiUyMiUzQSUyMiUyMiU3RCUyQyU3QiUyMnRpdGxlJTIyJTNBJTIyV2hhdHNBcHAtSW1hZ2UtMjAxOC0wMS0wNy1hdC0xMy4xMi4xNzElMjIlMkMlMjJpbWFnZSUyMiUzQSUyMmh0dHAlM0ElMkYlMkZraW1yb3RyYW5zcG9ydC5jb20lMkZ3cC1jb250ZW50JTJGdXBsb2FkcyUyRjIwMTglMkYwMSUyRldoYXRzQXBwLUltYWdlLTIwMTgtMDEtMDctYXQtMTMuMTIuMTcxLmpwZWclMjIlMkMlMjJkZXNjcmlwdGlvbiUyMiUzQSUyMiUyMiUyQyUyMnRodW1iJTIyJTNBJTIyJTIyJTdEJTJDJTdCJTIydGl0bGUlMjIlM0ElMjJLaW1yb1RyYW5zcG9ydC0wMyUyMiUyQyUyMmltYWdlJTIyJTNBJTIyaHR0cCUzQSUyRiUyRmtpbXJvdHJhbnNwb3J0LmNvbSUyRndwLWNvbnRlbnQlMkZ1cGxvYWRzJTJGMjAxOCUyRjAxJTJGS2ltcm9UcmFuc3BvcnQtMDMuanBnJTIyJTJDJTIyZGVzY3JpcHRpb24lMjIlM0ElMjIlMjIlMkMlMjJ0aHVtYiUyMiUzQSUyMiUyMiU3RCUyQyU3QiUyMnRpdGxlJTIyJTNBJTIyMTAlMjIlMkMlMjJpbWFnZSUyMiUzQSUyMmh0dHAlM0ElMkYlMkZraW1yb3RyYW5zcG9ydC5jb20lMkZ3cC1jb250ZW50JTJGdXBsb2FkcyUyRjIwMTglMkYwMiUyRjEwLmpwZyUyMiUyQyUyMmRlc2NyaXB0aW9uJTIyJTNBJTIyJTIyJTJDJTIydGh1bWIlMjIlM0ElMjIlMjIlN0QlMkMlN0IlMjJ0aXRsZSUyMiUzQSUyMjE5MjQ4MTUwXzY4MTEwMzkzODc1NjY3N180MDc2MTYxODMxMzIzMDMyNjAxX24lMjIlMkMlMjJpbWFnZSUyMiUzQSUyMmh0dHAlM0ElMkYlMkZraW1yb3RyYW5zcG9ydC5jb20lMkZ3cC1jb250ZW50JTJGdXBsb2FkcyUyRjIwMTglMkYwMSUyRjE5MjQ4MTUwXzY4MTEwMzkzODc1NjY3N180MDc2MTYxODMxMzIzMDMyNjAxX24uanBnJTIyJTJDJTIyZGVzY3JpcHRpb24lMjIlM0ElMjIlMjIlMkMlMjJ0aHVtYiUyMiUzQSUyMiUyMiU3RCUyQyU3QiUyMnRpdGxlJTIyJTNBJTIyMTQ1NDI0OV80NDcwNDM1NjU0MDQzNzhfMTM3ODc3NzA5NV9uJTIyJTJDJTIyaW1hZ2UlMjIlM0ElMjJodHRwJTNBJTJGJTJGa2ltcm90cmFuc3BvcnQuY29tJTJGd3AtY29udGVudCUyRnVwbG9hZHMlMkYyMDE4JTJGMDElMkYxNDU0MjQ5XzQ0NzA0MzU2NTQwNDM3OF8xMzc4Nzc3MDk1X24uanBnJTIyJTJDJTIyZGVzY3JpcHRpb24lMjIlM0ElMjIlMjIlMkMlMjJ0aHVtYiUyMiUzQSUyMiUyMiU3RCUyQyU3QiUyMnRpdGxlJTIyJTNBJTIyV2hhdHNBcHAtSW1hZ2UtMjAxOC0wMS0wNy1hdC0xMy4wOS40MCUyMiUyQyUyMmltYWdlJTIyJTNBJTIyaHR0cCUzQSUyRiUyRmtpbXJvdHJhbnNwb3J0LmNvbSUyRndwLWNvbnRlbnQlMkZ1cGxvYWRzJTJGMjAxOCUyRjAxJTJGV2hhdHNBcHAtSW1hZ2UtMjAxOC0wMS0wNy1hdC0xMy4wOS40MC5qcGVnJTIyJTJDJTIyZGVzY3JpcHRpb24lMjIlM0ElMjIlMjIlMkMlMjJ0aHVtYiUyMiUzQSUyMiUyMiU3RCUyQyU3QiUyMnRpdGxlJTIyJTNBJTIyS2ltcm9UcmFuc3BvcnQtMDQlMjIlMkMlMjJpbWFnZSUyMiUzQSUyMmh0dHAlM0ElMkYlMkZraW1yb3RyYW5zcG9ydC5jb20lMkZ3cC1jb250ZW50JTJGdXBsb2FkcyUyRjIwMTglMkYwMSUyRktpbXJvVHJhbnNwb3J0LTA0LmpwZyUyMiUyQyUyMmRlc2NyaXB0aW9uJTIyJTNBJTIyJTIyJTJDJTIydGh1bWIlMjIlM0ElMjIlMjIlN0QlNUQ="]