Flower and plant transport
Tourists from all over the world visit The Netherlands to admire our beautiful flowers in the Keukenhof. We are the center of the world when it concerns the flower and plant market. For various locations a large assortment of flowers and plants are transported to the furthest corners of Europe. Kimro Transport B.V. will make sure these products are transported with the utmost care, besides speed the control over temperature and moisture is of the utmost importance. This way those beautiful fresh flowers and plants will not arrive at their location in a withered state.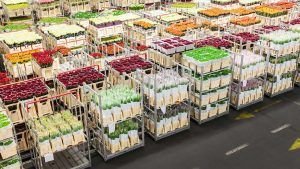 Holland, Flower land
With the billions of flowers and plants that are exported from The Netherlands on a yearly basis, it is imperative that our transport company is able to offer the optimal conditions in order to transport these vulnerable products in the correct way. The moisture of the air should be controlled for instance, to prevent mold from developing. This ensures a longer preservation of flowers and plants.
One truck, two temperatures
Not all flowers and plants can be transported under the same conditions, the optimal temperature can vary for every product. In order to save costs and increase the efficiency we make use of special trailers that are equipped with a partition. This allows us to transport flowers and plants using two different temperatures. If products have to be transported using specific temperatures or under specific conditions you can always contact our helpdesk for more information.
High speed transport is a colorful surprise
We are able to load the flowers and plants directly at the grower and subsequently drive to the final destination. We drive from the growers and flower market directly to the wholesaler and to the florists. It doesn't matter whether it concerns one pallet or a complete load. When flowers and plants have to be transported to the furthest corners of Europe, the speed is crucial. It's good to know that we offer double drivers transport, so breaks during the long ride aren't required.